socastcmsRssStartnews.sky.comsocastcmsRssEnd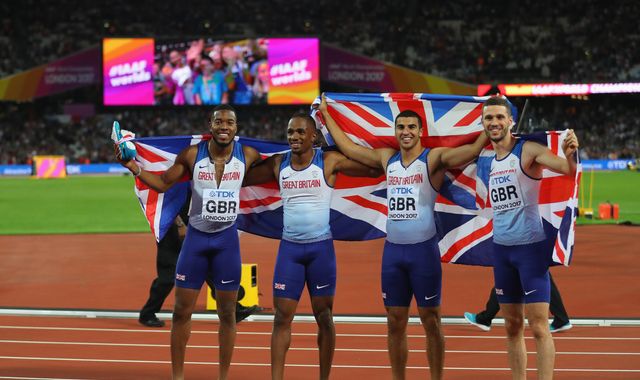 But there was a sad end to the sprinting career of the great Usain Bolt, who pulled up injured on the anchor leg for Jamaica.
Bolt received the baton with Jamaica in third but, halfway down the straight, the all-time great started clutching his left thigh, eventually doing a forward roll to the ground.
Even had he not been injured, Bolt would have been hard-pressed to catch Great Britain's Nethaneel Mitchell-Blake, who held off 100m silver medallist Christian Coleman of the USA to claim a famous gold for the host nation.
The British quartet of Chijindu Ujah, Adam Gemili, Daniel Talbot and Mitchell-Blake scorched round the track in 37.47 seconds, the third fastest time in history, with the Justin Gatlin-led US team taking silver, 0.05sec behind, while Japan claimed a surprise bronze (38.04).
The win capped a fantastic night for Great Britain in the sprint relays, the women's quartet having claimed silver behind an impressive American team a few minutes earlier.
But the championships will be remembered for an anti-climactic end to the career of Bolt, a 19-time global champion who is arguably the greatest sprinter the world has ever seen.
The 30-year-old could only manage bronze behind Gatlin and Coleman in the 100m and, having fallen to the ground in the relay, his team-mates gathered round him, before Bolt was helped to his feet and limped over the line, applauding the crowd as he did so.