socastcmsRssStartnews.sky.comsocastcmsRssEnd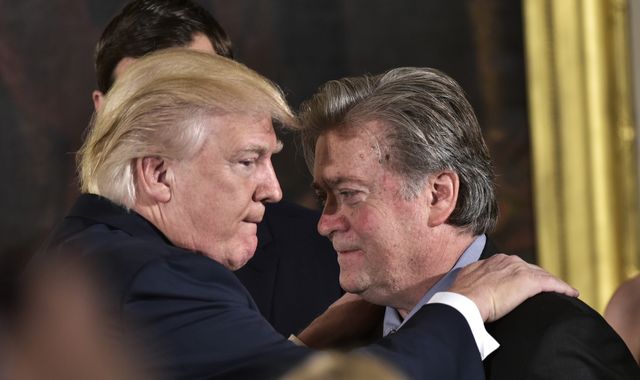 The US President distanced himself and his administration from Mr Bannon in a statement, saying: "Steve Bannon has nothing to do with me or my Presidency. When he was fired, he not only lost his job, he lost his mind."
Mr Trump went on to accuse his former ally of "spending his time at the White House leaking false information to the media to make himself seem far more important than he really was".
He added: "Steve was rarely in a one-on-one meeting with me and only pretends to have had influence to fool a few people with no access and no clue."
His statement comes after Mr Bannon was quoted in the excerpt of a new book as saying that a Trump Tower meeting between the President's son and a group of Russians was "unpatriotic" and "treasonous".
The book – Fire And Fury: Inside The Trump White House, by Michael Wolff – also claims that Mr Trump never expected to win the 2016 presidential race, but believed his nomination would boost his brand and deliver "untold opportunities".
Shortly after Mr Trump's comments a White House Spokeswoman claimed the book was filled with "false and misleading accounts".
More follows…