Essex & Herts Air Ambulance Online Christmas Celebration 2020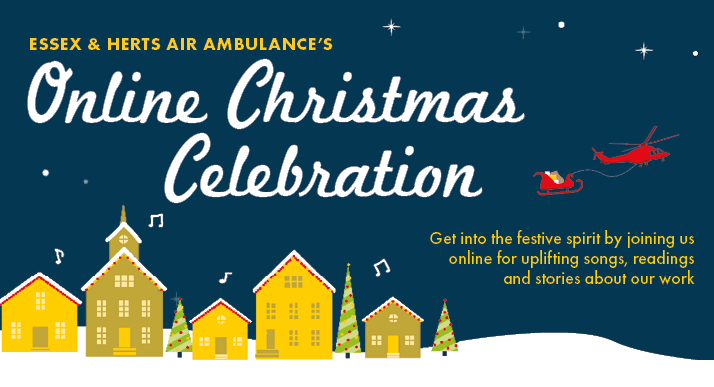 To all the loyal supporters, friends and volunteers of Essex & Herts Air Ambulance, we hope you and your nearest and dearest are keeping safe and well.
They want to thank you for your incredible support this year. As a big thank you, they wanted to give something back to the local community and raise spirits at this challenging time. They would be delighted if you could join them for a very special free Online Christmas Celebration.
During a year like no other your support has allowed the crews from Essex & Herts Air Ambulance to be there 24/7 for the people of Essex, Hertfordshire and surrounding areas and keep more families together this Christmas.
From the comfort of your own home you'll be able to share and enjoy together some festive uplifting songs, readings and poems from the EHAAT family, a catch up with some of their crew and a personal message from Jane Gurney their CEO, as well as Martin and Su from Radio Essex. There might be one or two surprises along the way!

Check out this sneak preview below…
Essex & Herts Air Ambulance would like to thank all their corporate sponsors, who have supported them throughout 2020...
Specialist Aviation Services
Raine and Co. Estate Agents
MDS Civil Engineering Ltd.
Dobsons
TC Group
Waterhouse Ltd.
Gates Ford
Woodland Group
Colchester Kawasaki
SorryMate
Chelmsford

Thundery shower

High: 17°C | Low: 9°C

Southend

Light rain shower

High: 17°C | Low: 10°C

Colchester

Thundery shower

High: 18°C | Low: 9°C

Harlow

Thundery shower

High: 16°C | Low: 8°C