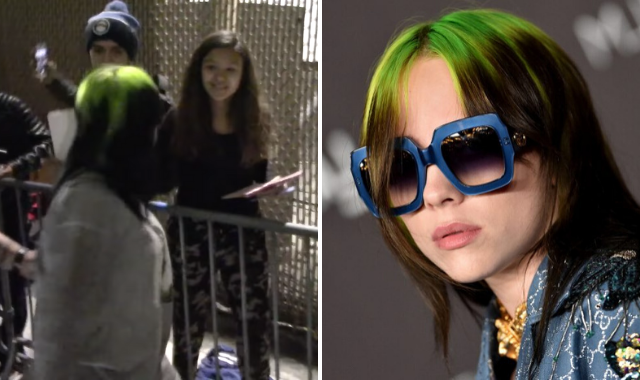 A video of Billie Eilish getting booed by some randoms on the street has surfaced online and now the star is getting angry.
The video in question shows the star leaving the backstage door of the Jimmy Kimmel Live set, with fans crowding around the barriers outside waiting to meet and have photos with her.
While the singer can be seen waving to fans and smiling, it quickly turned nasty when she avoided a certain section of the crowd.
Many quickly begun to boo her and some even shouted abuse and swear words at the singer, who was being ushered along by her security and the rest of her team.
Not one to upset fans, Billie took to Instagram Stories the other day to set the record straight.
"The only reason I'm making this video is that I saw a video of this all happening and I just wanted to clarify what actually happened" she said.
"If you watch the video it looks like I'm walking by a bunch of fans and completely ignoring them and not saying hey to them, which is not what happened."
"I started to walk away because I realised none of these people actually cared about anything that had to do with me as a person" she went on.
She continued: "I walked over there only to say hey, only to hug people and I got pictures of me shoved into my f**king face."
"I got no love whatsoever, so I left and then I got booed and called a little b**ch and got told I was going to lose my Grammy nominations."
"The fact that people can switch up like that.. damn. They wait outside for you and then immediately they don't get what they want and they boo you and f**king curse at you."