Theresa May 'urges EU27 to agree swift transition period' at summit dinner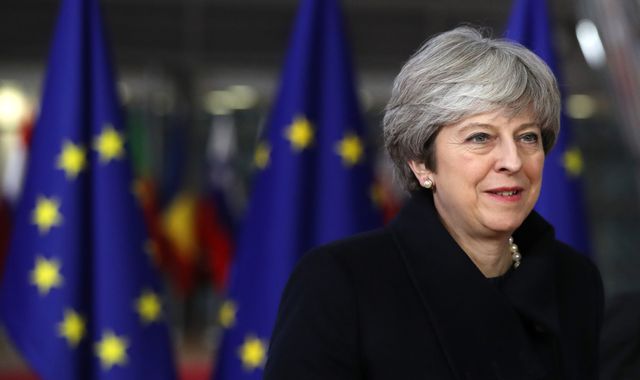 5 hours ago
The PM was applauded by EU27 leaders at the EU summit dinner after German Chancellor Angela Merkel thanked her for her commitment in Brexit talks, say Sky sources at the dinner.
Brexit: UK and EU urged to turn down the heat as they enter next phase
7 hours ago
Since March the UK and EU have been butting heads over the first stage of our divorce - but now it gets really complicated.
Michael van Gerwen beats Christian Kist in World Darts Championship first round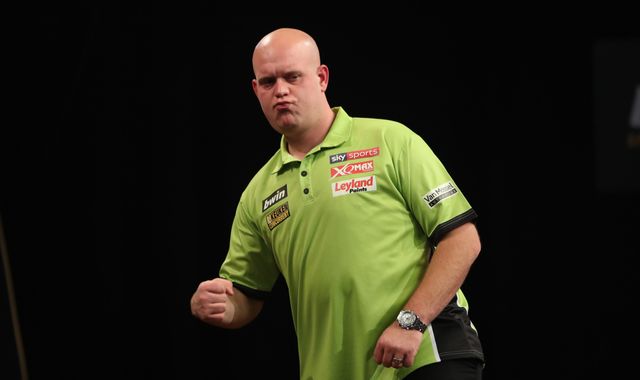 16 hours ago
Michael van Gerwen needed to be at his very best to beat Christian Kist and kick off the defence of his World Darts Championship with a hard-fought first-round victory.
Gianluigi Donnarumma: What now for AC Milan's 'golden' goalkeeper?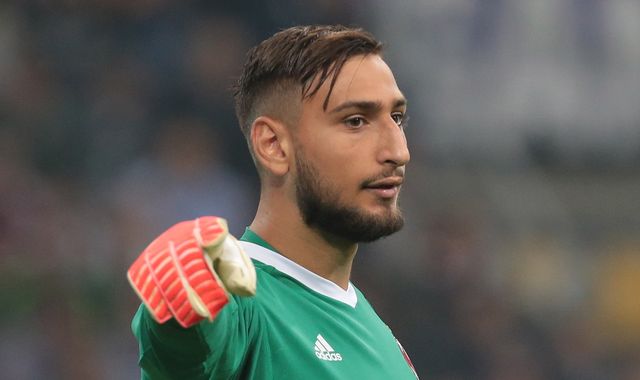 16 hours ago
He is one of the most highly-rated young goalkeepers in the world, but Gianluigi Donnarumma's future at AC Milan again appears to be in doubt. What has gone wrong for the teenager and what will happen next? James Walker-Roberts takes a look...
Unidentified space object not alien ship, say scientists after first scans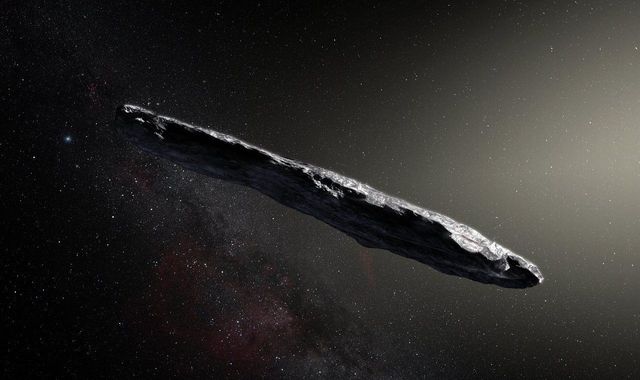 1 hour ago
A mysterious cigar-shaped object in space is not an alien craft, according to initial scans carried out by scientists.
Maimed Thai dog's missing paws replaced with blades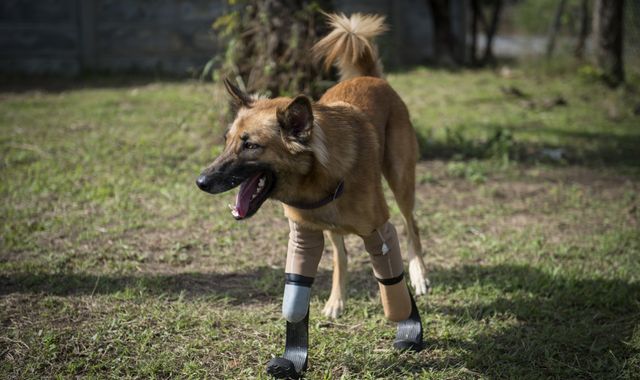 15 hours ago
A dog who had his two front paws chopped off in Thailand is able to run again after a vet replaced his missing feet with blades.
Idris Elba hails 'strong' Meghan Markle as 'beacon' and 'role model' for all women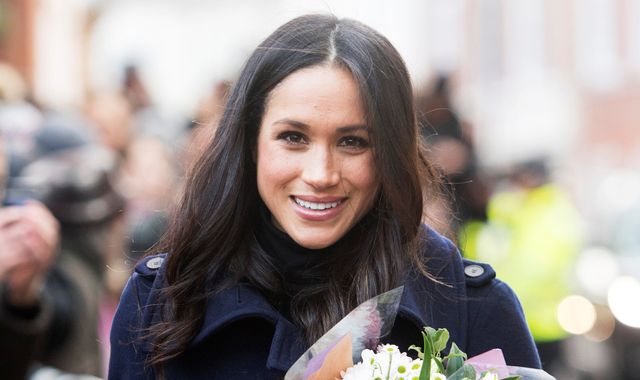 4 hours ago
Meghan Markle will be a "beacon" and "role model" as she joins the Royal Family, actor Idris Elba has told Sky News.
Fox to sell film and TV assets to Disney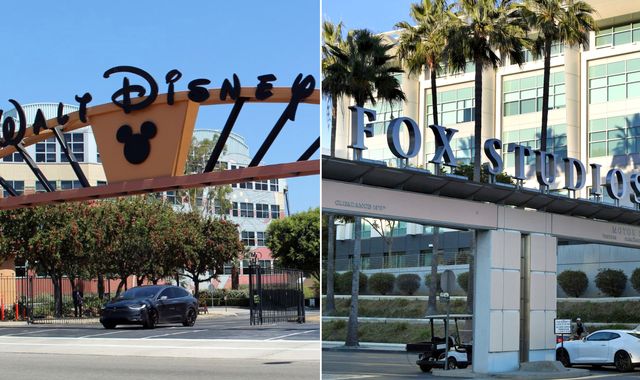 19 hours ago
Two of the world's biggest media and entertainment companies have fired the starting pistol on the biggest shake-up in Hollywood since the 1930s as 21st Century Fox agreed to sell its entertainment assets to Walt Disney Co for $52.4bn.
23
Photos
Cook with Kube - Producer Jamie's Italian
2 weeks ago
27
Photos
Ellis Brigham
1 month ago
22
Photos
Southend FC - Junior Blues Day
2 months ago
45
Photos
World Tour - Bruno Mars in Rio Finale
2 months ago
21
Photos
Warren Classic Car Show 2017
2 months ago
43
Photos
German Motor Show 2017
2 months ago
74
Photos
Southend Carnival 2017
4 months ago
40
Photos
Southend Carnival Family Fun Day 2017
4 months ago
29
Photos
Kube Kitchen Final - Nibbles to Naples
4 months ago
67
Photos
Motor Fest 2017 SUNDAY
4 months ago
41
Photos
Motor Fest 2017 SATURDAY
4 months ago
41
Photos
Relay For Life 2017
4 months ago
43
Photos
Meet the Blues 2017
4 months ago
24
Photos
Essex Cricket G20 Family Fun Day 2017
5 months ago
60
Photos
Great Notley Summer Fete 2017
5 months ago
28
Photos
Castle Point Show 2017
5 months ago
24
Photos
Films Under Stars - La La Land
5 months ago
59
Photos
World Tour Finale - Ed Sheeran in New York
5 months ago
35
Photos
Southend Raft Race 2017
6 months ago
76
Photos
Essex Pride 2017
6 months ago
51
Photos
Wild Woods Day 2017
6 months ago
41
Photos
In the Park Festival 2017 - Gallery 1
7 months ago
54
Photos
In the Park Festival 2017 - Gallery 2
7 months ago
61
Photos
Farleigh Hospice - Walk for Life - Gallery 2
7 months ago
60
Photos
Farleigh Hospice - Walk for Life 2017 - Gallery 1
7 months ago
45
Photos
Cook with Kube - Give Me Five Final
7 months ago
25
Photos
Maldon Mud Race 2017
7 months ago
26
Photos
Wake Up Essex - Mug Amnesty
8 months ago
53
Photos
World Tour Finale - Justin Bieber
9 months ago
20
Photos
World Tour- Beyonce in Paris
9 months ago
2
Photos
The BIG Switch (Canvey Island)
9 months ago
14
Photos
Maldon Mud Race 2015
9 months ago
16
Photos
Cursed Event 2014
9 months ago
21
Photos
World Tour - Adele in New York
9 months ago
30
Photos
Colchester Half Marathon 2016
9 months ago
50
Photos
Colchester Half Marathon 12th March 2017
9 months ago
16
Photos
Cake Box Valentines Winners
10 months ago
65
Photos
The Santa Trap
12 months ago
90
Photos
intu Caroling-on-Ice - 11.12.16
1 year ago
141
Photos
Big Cars Winter Wonderland - World Tour Leg 4 Finale
1 year ago
104
Photos
Wickford Christmas Village
1 year ago
71
Photos
Grays Christmas Lights
1 year ago
100
Photos
Braintree Christmas Lights
1 year ago
163
Photos
intu Christmas Light Switch On & Radio Essex Caroling-on-Ice
1 year ago
8
Photos
Halloween in Essex 2016
1 year ago
47
Photos
Victoria Shopping Centre Halloween Event
1 year ago
32
Photos
The Warren Classic Car Show
1 year ago
39
Photos
Farleigh Hospice Cycle for Life
1 year ago
43
Photos
Essex Country Show
1 year ago
26
Photos
Southend Carnival 2016
1 year ago
83
Photos
Teddy Bears Picnic 2016
1 year ago
31
Photos
Marsh Farm Kids Fest 2016
1 year ago
53
Photos
Cancer Research Relay for Life
1 year ago
24
Photos
Rossi Black Ice Cream Launch
1 year ago
37
Photos
Southend United- Meet the Blues
1 year ago
95
Photos
Dragonboat Racing Chelmsford
1 year ago
116
Photos
Colourthon 2016
1 year ago
37
Photos
Euro 2016 Fanzone at Garon Park
2 years ago
27
Photos
Wild Woods Day 2016
2 years ago
39
Photos
World Tour Grand Finale - Beyonce in Paris
2 years ago
54
Photos
Farleigh Hospice Walk For Life
2 years ago
25
Photos
The Angry Birds Movie at Intu Lakeside
2 years ago
36
Photos
Temple at War
2 years ago
34
Photos
Tyre Tech Family Fun Day in aid of PARC
2 years ago
34
Photos
Maldon Mud Race 2016
2 years ago
46
Photos
Cliffs Wedding Fayre- Hollywood Glitz and Glamour
2 years ago
9
Photos
Southend Shakedown
2 years ago
23
Photos
Brentwood Half Marathon
2 years ago
17
Photos
World Tour Grand Finale- Lionel Richie in Las Vegas
2 years ago
22
Photos
World Tour - Lionel Richie in Las Vegas
2 years ago
15
Photos
Essex Cricket Merchandise Launch
2 years ago
6
Photos
The BRIT Awards 2016
2 years ago
8
Photos
The Big Deal Winner
2 years ago
11
Photos
Faces at the Races: Chelmsford City Racecourse
2 years ago
15
Photos
Maldon Fireworks 2015
2 years ago
34
Photos
Southend Carnival 2015
2 years ago
31
Photos
Viilage Green 2015
2 years ago
20
Photos
The Great Pier Swim 2015
2 years ago
15
Photos
Teddy Bears Picnic 2015
2 years ago
18
Photos
The Colourthon
2 years ago
5
Photos
Robin Hood Show - Southend
2 years ago
7
Photos
Maldon Fire Station Open Day
2 years ago
10
Photos
Maritime Festival
3 years ago
29
Photos
The Wild Woods Day
3 years ago
33
Photos
Southend Film Festival
3 years ago
5
Photos
Essex Garden Show - Brentwood
3 years ago
25
Photos
Robin Hood Country Show
3 years ago
17
Photos
Southend Flower Show
3 years ago
9
Photos
The BIG Switch (Rayleigh)
3 years ago
5
Photos
The BIG Switch (Wickford)
3 years ago
11
Photos
The BIG Switch (Basildon)
3 years ago
12
Photos
The BIG Switch (Chelmsford)
3 years ago
2
Photos
The BIG Switch (Clacton)
3 years ago
2
Photos
The BIG Switch (Billericay)
3 years ago
5
Photos
The BIG Switch (Brentwood)
3 years ago
3
Photos
The BIG Switch (Epping)
3 years ago
3
Photos
The BIG Switch (Harlow)
3 years ago
8
Photos
The BIG Switch (Colchester)
3 years ago
4
Photos
The BIG Switch (Maldon)
3 years ago
2
Photos
The BIG Switch (Witham)
3 years ago
3
Photos
The BIG Switch (Braintree)
3 years ago
7
Photos
The BIG Switch (Southend)
3 years ago
17
Photos
The Cliffs Pavilion Wedding Fayre 2015
3 years ago
17
Photos
Chelmsford Marathon 2014
3 years ago